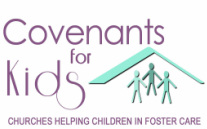 How the Program Works
Covenants for Kids: Churches Helping Children in Foster Care, is a project of Teaching Like Jesus Ministries, Inc. in conjunction with the Los Angeles County Department of Children and Family Services. Church volunteers drive children living in foster care to church to attend Sunday morning service, Sunday School, Children's Church, Youth Group, Choir, Vacation Bible School, and other church events.
Here's how it works: At a pastor's invite, Dr. Tolbert visits that church on a Sunday morning or during Bible Study and presents an overview of Covenants for Kids to the congregation. Following service, those who are interested in volunteering complete an information sheet and are scheduled to attend a 4-hr driver's training workshop.
After completion of the training, volunteers are live-scanned (fingerprint background check). Once the volunteer receives criminal clearance, a child who has indicated that he/she wants to attend church is assigned. Children usually reside within an 8-10 mile radius of the church.
It's that easy! As children interact with church members, they may find a forever family. Even if they are not adopted, they may make permanent connections to adults that will last beyond emancipation from the foster care system.
The goal is to expand this program nationwide because every child deserves a
church
family. To become a Covenants for Kids church, complete the form on our
Contact Page
.
Covenants for Kids Churches as of February, 2013 (Listed Alphabetically):
Bethlehem Church of Christ Holiness, Pasadena – Pastor Chris Bourne
Calvary Chapel Downey – Pastor Jeff Johnson
Community Bible Church, Palmdale – Pastor Patrick L. Campbell
Crenshaw Christian Center, Los Angeles - Pastor Frederick Price, Jr.
Greater United Faith Apostolic, Long Beach – Pastor Jeanette Sanders-Moore
New Hope Christian Fellowship, Eagle Rock - Pastor Glen Weber
Rhema of Life Church, Bell – Pastor Jorge, Jr.
Rolling Hills Covenant Church, Rolling Hills – Pastor Andy Noch (Senior Pastor, Byron MacDonald)
Southland Community Church, Bell - Pastor Jeff Cox
Meet Bishop W. C. Martin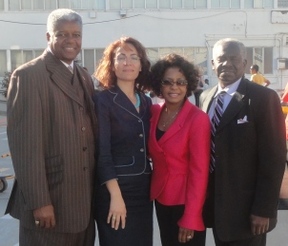 Dr. Tolbert is pictured here with businessman Lee Liggins (left), and Odette Kahwajian (2nd from left). Businessman Lee Liggins introduced Odette to Dr. Tolbert (2nd from right), and she introduced Dr. Tolbert to Bishop W. C. Martin (far right). Bishop Martin is a nationally-known pastor and author of the book,
Small Town, Big Miracle.
In his book, Bishop Martin details how he and his wife championed adoption by adopting several children. And, Bishop Martin preached and preached and preached about the church's responsibility to adopt. Soon, their 200-member church family followed their example by adopting over 70 hard-to-place children in Possum Trot, Texas. It's a fascinating tribute to the power of leadership! Odette and Dr. Tolbert are partners in ministry dedicated to educating churches about adoption and foster care. Their goal? To end the foster-care cycle and help place children into permanent families.
---
Dr. Edwina Lewis Presents Commendation to Dr. La Verne Tolbert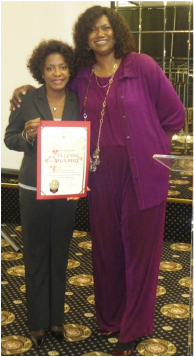 During "Open Your Heart Sunday," an annual adoption event that was also celebrated at Crenshaw Christian Center (2010) in Los Angeles where Pastor Frederick Price is pastor, Dr. La Verne Tolbert received a commendation from the Department of Children and Family Services and Mark Ridley-Thomas, Supervisor, Second District. This award acknowledges the 30 years that she has advocated for adoption by encouraging congregations to establish adoption ministries.
Covenants for Kids, a program that enables church volunteers to mentor children who are being raised in foster care, is one way to connect with youth who are in the system. Volunteers become trained and cleared to drive children living in foster care to church, and in the process they may develop relationships that last beyond the teen's emancipation from foster care.
These relationships are especially important for older youth who are considered "hard to adopt". Caring adults are vital to a successful entry into young adulthood. For more information on how to become a Covenants for Kids church partner, please contact Dr. Tolbert by completing the form on the
Contact Us page.
---