Train Your Teachers to Teach Like Jesus!
Need to equip your leaders and teachers? Our teacher-trainers may be just what you need!
To schedule, see below.
Book a Teacher Trainer!

To schedule the teacher-trainer that's right for you, please complete the form at the bottom of this page. We'll work within your budget and do appreciate your ministry's commitment to excellence. Be guided by the principle that "the laborer is worthy of his wages," (I Timothy 5:18).

We provide professional Christian education and spiritual formation consultation for pastors, directors, or superintendents. Our scholarly approach and professional training help to provide the answers you need whether it's for:

Prayer Ministry
Children's Church and Sunday School
Youth and Teen Ministry
Young Adult Ministry
Adult Ministry
Singles Ministry
Women's Ministry
Small Groups
Christian Schools
Home-Schooling
And workshops on: How to Study the Bible, Parent Education, Abstinence Education, and Spiritual Formation.

Below are some of our experts who are available to assist you. For additional suggestions, please

contact Dr. La Verne Tolbert.
Rev. Dr. Ray A. Owens
Tulsa, Oklahoma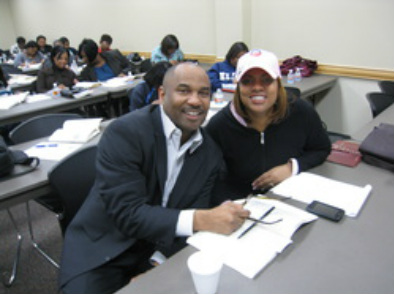 Pastor-teacher
Rev. Dr. Ray Owens
knows what it takes to teach effectively so that lives are transformed. Rev. Owens, Pastor of Metropolitan Baptist Church in Tulsa, Ok, is brilliant in the classroom and anointed in the pulpit. He trains groups of pastors and teachers in conference settings by demonstrating the teaching skills that are essential no matter how large your classroom or congregation.
Dr. Ray A. Owens leads a multifaceted life as husband, father, pastor-scholar and public intellectual. In addition to his pastoral duties, Rev. Owens has taught religious studies courses at Oklahoma State University-Tulsa and Texas Christian University. He currently serves as an Assistant Professor at Phillips Theological Seminary.
Dr. Owens has a particular passion for issues related to youth and education. His doctoral dissertation, which is currently being revised for publication, seeks to address the contemporary crisis in black education by mining the resources of African American religion.
In 1989, Dr. Owens earned a Bachelor of Arts in English from the University of Texas at Austin and a Master of Divinity from Princeton Theological Seminary in 1998. In spring 2005, he received the cum laude distinction for his doctoral dissertation and earned the Doctorate of Philosophy in Religion and Society from Princeton Theological Seminary.
Pastor Owens is pictured here with his wife, Dr. Dion Owens, a staff psychiatrist at the Shadow Mountain Behavioral Center in Tulsa. The Owens are parents of two incredible daughters, Jordan and Jillian.
Click here to Contact Pastor Ray Owens
---
Elder Minnie Gauldin, M.A.
Cairo, Georgia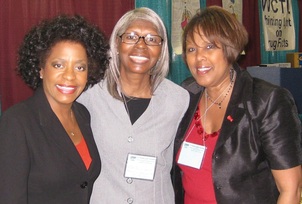 Elder Minnie Gauldin, M.A.
is a faithful intercessor who prays from noon until 2 daily and teaches other believers
how to pray.

Her workbook and seminar help advance the kingdom of God as Christians learn to pray without ceasing.
Elder Minnie (center) attended the Christian Ministries Training Association Convention in Pasadena, CA. Dr. Tolbert was one of the keynote speakers. Mrs. Rosalind Sago (right), a board member for Teaching Like Jesus Ministries, also attended the conference.
When Elder Minnie returned to Georgia, the Lord expanded her territory! She actively supports ministries with additional workshops on health and nutrition God's way
. Her sessions are engaging, instructive, and life-changing. To contact Elder Gauldin, email ycminis@gmail.com.
---
Minister Bettie Williams
Fort Worth, Texas

Bettie L. Williams

(standing) has as her life goal to bring Jesus Christ to people and people to Jesus Christ. She has compassion for the lost, a heart for God, and a servant-leader approach to equipping men, women, and children for kingdom-building.

An Associate Minister at St. John Church in Grand Prairie and Southlake, Texas, Minister Bettie has served as a Decision Counselor, Evangelism/Outreach Coordinator, Sunday School Teacher, and Teacher-Trainer under the leadership of Rev. Denny D. Davis, Senior Pastor, since October 2004. She teaches children, youth, and adults in churches and parachurch ministries throughout the Midwest and Dallas.

Her workshops include: Teaching Like Jesus; Church Membership; What Must I Do to Be Saved (specifically for children); and You Can Tell It. She also speaks for women's retreats and women's ministry. Equally passionate about missions, she went on her first mission trip to Reynosa, Mexico, December 2007.

Minister Bettie is completing her studies in Christian Ministry in Adult Education at Dallas Baptist University to sharpen her gifts of evangelism, teaching and administration. With her captivating personality, she inspires and motivates leaders to move from good to great in ministry.

Minister Bettie and her husband, Ron, have been married 32 years. The couple has a married daughter and a cherished grandson. As she continues to consecrate her life to God Minister Bettie proclaims,

"I shall lift up the cup of salvation, and call upon the name of the Lord,"

(Psalm 116:13). To contact Minister Bettie, email

will2@1scom.net

---
Marilyn Brownlee, M.A.
Yorba Linda, California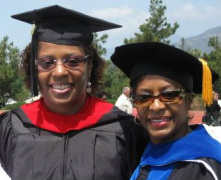 Marilyn Hayes, M.A.,
has been involved in church ministry for the past 20 years.
She lives in Southern California and graduated from Azusa Pacific University's graduate school with a Master of Arts in Christian Education.
In keeping with Paul's exhortation to Timothy to "entrust these to faithful men who will be able to teach others also" (2 Tim 2:2), Marilyn developed a 26-week curriculum to train volunteers at Friendship Baptist church in Yorba Linda. She serves in the Christian education department as a teacher and youth minister. She is also Youth Coordinator for the development of programming and curriculum for Urban Youth Ministries.
Marilyn values the transformative process of addressing the issues youth face with timeless biblical principles. Teaching Passion and Purity (see photo below) is the highlight of her year. To contact Marilyn, email
marilynbhayes@hotmail.com
---